A Specialized Travel Agency That Needed a Website Along With a Digital Marketing Plan
The Situation
Artun Travel is a specialized travel agency that has been in business since 1991.  The agency was doing well, they had a strong client base with significant repeat business. The bulk of their business is international travel where packages are larger ticket items.
Artun Travel was looking to elevate their business goals; they wanted to attract a younger audience, the savvy American traveler, without alienating their existing client base. They recognized the fact that many travelers shop for their big ticket travel online but they knew they had to give them a reason to pick up the phone and purchase offline.
Their branding was outdated, they needed a fresh look and new messaging.  They had an outdated website and no web marketing efforts.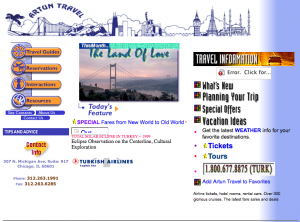 The Solution
We started with the basics – the logo.  The objective was to create a logo that incorporated traditional Turkish elements while remaining progressive and current.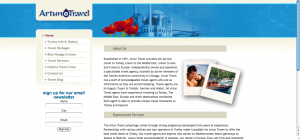 Lotus Marketing Services worked in tandem with a web developer to rebuild the new Artun Travel site.  SEO friendly copy was written and new pages were added to the site, including frequently searched travel links and a section on Turkish history.  The added content was intended to educate customers while simultaneously improving the Artun Travel search engine ranking.
The design for the website needed to be contemporary, beautiful and simple.  Hints of tradition remained, but the goal was to represent Artun Travel as an expert travel service provider with experience and the ability to remain current.
The Social Media Marketing Plan
After the site re-design, Lotus Marketing Services implemented a social media marketing plan for Artun Travel which included: blog design to reflect the look and feel of the site, a regular blogging schedule, the creation of two Flickr groups, a Facebook Fan Page and a Twitter account. The plan reached the top seven U.S. markets where Turkish-Americans reside utilizing location based searches, Google Adwords and Facebook ads.