You've Started The Conversation….Now What?
We are not big on buzz words but we are big on action.
We create the opportunities for you to integrate your brand into the real lives of your social media audience. By building upon a targeted audience and delivering experiences that resonate, we make your brand more approachable. Providing the next steps to expand the social media marketing efforts for your brand.
---
Lotus Marketing Services Team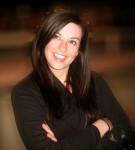 Leyla Arsan – Owner
Is a native Chicagoan and a lifestyle marketer with a thirst for new media, technology and pop culture. Leyla founded Lotus Marketing Services in 2009.
Leyla's integrated marketing / communications experience started at DDB Chicago where she worked on event marketing, promotional marketing and music sponsorship campaigns for Fortune 500 brands. In 2002, Leyla moved to the client side and worked for Accenture as a member of the Global Events Team where she managed projects such as The Accenture MatchPlay and the Tiger Woods sponsorship. Currently, Leyla heads up business development, strategy and operations for Lotus Marketing Services.
In addition to client work, Leyla co-founded, a monthly Twitter chat focused around lifestyle and luxury brands reaching approximately 150,000 monthly participants. Leyla's company, Lotus Marketing Services, created and produces Downtown Dash, a sponsor-driven, social media scavenger hunt that generates over 1 million impression through social channels for event partners utilizing various social channels: YouTube, Twitter, Facebook and Foursquare.  
Efsun Korman – Associate
Efsun holds an MBA from Charles H. Kellstadt Graduate School of Business at DePaul University, she is an animal lover and avid reader. Efsun has an impressive background in digital marketing, project management and market research. Efsun started her career during the dot-com boom in the 90s at an online Ezine. Since that time, she has worked for Tribune Interactive, Apartments.com and Synovate.
Efsun consults on digital projects with Lotus Marketing Services, including: product development, market research, content strategy and SEO. Additionally, Efsun is a lead editor for HotBachelorette.com.
M. Knox – Head Geek
M. Knox leads all web development, IT and project management for all digital projects. M. Knox has over 20 years experience in technology.
---
Strategic Partnerships
At Lotus Marketing Services, we often find the need to partner with various vendors on larger projects. Throughout our careers, each one of us has worked with a number of talented professionals whose expertise we delightfully call upon when a client need arises.
Is a business development firm, specializing in digital strategy in the healthcare, insurance and financial services industry. With over seven years experience working with Fortune 500 companies in Business Development, Service, Sales and Management.
Disa Johnson – SEO
Acknowledged as a top industry leader, having helped foster the development of the search industry from its earliest days at MMG in Bend, Oregon, Disa pioneered many best practices and personally developed methods that are still in wide use by today's search industry practitioners.
Disa Johnson was formerly Vice President of Position Technologies, Inc., Vice President of SuccessWorks Intl., Director of Search Services at Outrider limited (WPP), Technologist and Director of Search Services at MMG in Bend Oregon. Known as the original hotbed of search engine marketing, Bend Oregon is where Disa began search marketing as one of a handful of people doing it at the time. Disa now owns and operates Search Return LLC.
Tony has 14+ years experience working as a designer. The bulk of Tony's experience comes from designing for the real estate industry, however, Tony also has experience with wedding invitations and brand identity. Tony has a strong background in social media marketing and designing for the web. In his spare time, Tony writes a food blog and spends time with his family.
Selcuk Arsan – Illustrator and Package Designer
Selcuk has been a graphic designer, illustrator and package designer for 8 years. Selcuk's background ranges from youth marketing, catalog, corporate to package design.